HOME
ABOUT US
FOR PARTNERS
SERVICES
CONTACTS
Cooler Master CK721, BT/2,4GHz/USB-C gaming keyboard, TTC BROWN Switch, RGB, US layout, white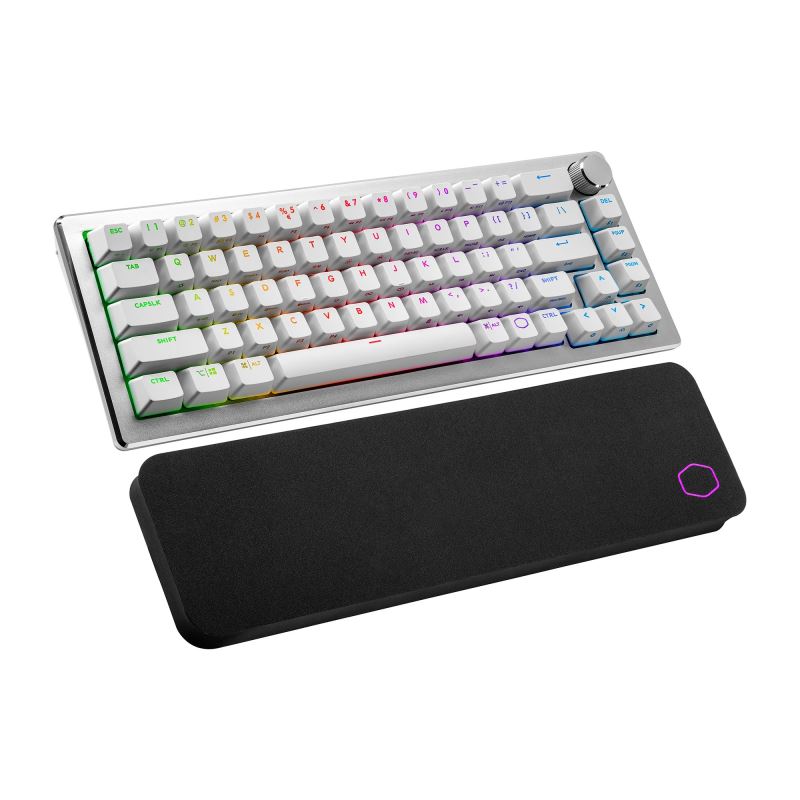 The CK721 wireless mechanical keyboard is an elegant small form factor solution for both work and play
Availability:
Ordered - date unknown
CM0202 / CK-721-SKTM1-US
4719512115633
Not specified
24 months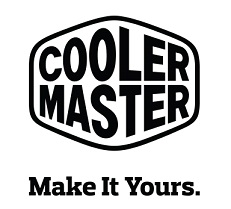 KEYBOARD YOUR EVERYDAY PC CARRY
The CK721 wireless mechanical keyboard is an elegant small form factor solution for both work and play. A 65% layout and hybrid wireless technology emphasizes portability with nearly universal OS & platform compatibility, while a sandblasted aluminum body imbues the sleek durability necessary in an everyday workhorse. In addition, mechanical switches give you the reliable performance, feel, and responsiveness you can count on. With all the features you need that just work, the CK721 is your go-to keyboard you want in the office and your gaming setup.
GET ATTACHED – BUT ONLY IF YOU WANT TO
Choose between wired Type-C connectivity or two types of wireless: 2.4 GHz for minimal latency or Bluetooth 5.1 for superior convenience with three simultaneously connected devices, no matter if it's your laptop, mobile, tablet or PC. Who says you can't have your cake and eat it too?
UNIVERSAL COMPATIBILITY FOR WORRY-FREE USE
It doesn't matter which side of the computer spectrum you fall on; the CK721 is virtually compatible with every modern device on the planet. That includes devices with: Windows 8 and above, Mac OS X, iOS and Android. And for maximum convenience, easily soft-switch between all devices with a simple keypress.
PORTABLE 65% LAYOUT & SOFT WRIST REST
Low-friction cloth to keep you comfortable during long gaming sessions along with a compact layout and design, perfect for on-the-go use with mobile devices and laptops.
RUGGED, DURABLE DESIGN AND REMOVABLE TOP PLATE
The CK721 is built to last, with a thoughtful design that's equal parts minimalistic and rugged, with an aluminum top plate that is easily removable for customization or easy access for maintenance.
*Lever to remove the top plate is located underneath the dongle cover. Pull the lever towards the front of the keyboard to loosen the top plate for removal. If you accidentally press the lever or decide not to remove it, place your thumbs on the left and right side of the keyboard top plate and gently rock it side to side to lock it back into place.
MAKE CONTROL WITH A PRECISION DIAL
Better known as "rotary encoders" in nerdier circles, a three-way precision dial enables you to adjust volume, cycle through color modes, and more — all customizable via our MasterPlus+ software.
Default Bindings:
Profile 1
Left = Volume Down
Right = Volume Up
Press = Mute
Profile 2
Left = Previous Track
Right = Next Track
Press = Play / Pause
Profile 3
Left = Decrease Brightness
Right = Increase Brightness
Press = On / Off Backlight
Profile 4
Left = Cycle LED Mode -
Right = Cycle LED Mode +
Press = Cycle Lighting Mode Speed (1 - 5)
MASTERPLUS+ SUITE SUPPORT
The CK721 is one of the first Cooler Master products to support the new MasterPlus+ software, a unified control hub where managing all of your Cooler Master gear is easier than ever. Adjust all of your settings from one dashboard, and even sync your lighting settings across multiple devices with ease.
*To ensure optimal use of the product, please download the MasterPlus+ software and update the latest firmware.
*In wired mode, you cannot update the firmware associated with wireless functionality. In order to fully update, please be sure to plug the dongle into your PC and make sure the CK721 is successfully connected via 2.4GHz. Start up the MasterPlus+ software and proceed through the prompts in order to fully update your keyboard to the newest functions.
REAL-TIME ADJUSTMENT OF SETTINGS
When you're in a groove, the last thing you want to do is Alt+Tab out to adjust your keyboard settings. The CK721 combats that with an innovative On-the-fly System. In the heat of battle, easily adjust per-key backlighting, switch lighting modes, and even record macros with just a few keypresses. Get the functionality of software without needing to have software bloating your system - saving you time and precious PC resources.
RGB PER-KEY BACKLIGHTING
No-nonsense backlighting for a no-nonsense keyboard - illuminate your keys based on control schemes, or just do it because it looks cool with 16.7 million colors to mix and match.
TWO-STEP KICKSTAND FOR IMPROVED ERGONOMICS
Adjustable feet improves the ergonomics of the CK721 by letting you control the angle of the keys to reduce wrist strain.
ENHANCE YOUR BOARD WITH ACCESSORIES
Coming soon we'll have a braided coiled cable, PBT keycap sets and colored aluminum top plates for you to customize and truly make the CK721 yours.
SPECIFICATION
KEYBOARD SWITCH TYPE TTC MECHANICAL SWITCH (RED/BLUE/BROWN)
KEYBOARD KEYCAPS ABS PAINTING & LASER ENGRAVED, OEM PROFILE
KEYBOARD MATERIAL ALUMINUM, PLASTIC
KEYBOARD COLOR SPACE GRAY, SILVER WHITE
KEYBOARD LED COLOR RGB, 16.7 MILLION COLORS
KEYBOARD POLLING RATE 1000HZ (WIRED/2.4GHZ MODE), 125HZ (BLUETOOTH MODE)
KEYBOARD RESPONSE TIME 1MS (WIRED/2.4GHZ MODE), 8MS (BLUETOOTH MODE)
ON-THE-FLY SYSTEM YES
KEYBOARD MULTIMEDIA KEY THROUGH FUNCTION KEY (FN)
CONNECTIVITY WIRED, 2.4 GHZ, BLUETOOTH 5.1
CHARGING SUPPORT WIRED CHARGING
BATTERY 2000MAH
BATTERY LIFE 73HRS (LED OFF)
COMPATIBLE OS WINDOWS 8+, MAC OS X 10.10+, ANDROID, IOS
SOFTWARE SUPPORT COOLER MASTER MASTERPLUS+
KEYBOARD CABLE 1.8M, USB TYPE C TO TYPE A, DETACHABLE & BRAIDED
WRIST REST CLOTH/SBR, 334 X 95 X 18 MM
KEYBOARD DIMENSIONS (L X W X H) STANDARD: 334 X 118 X 37 MM / 13.15 X 4.65 X 1.46 INCH, WITH 1ST STAGE FEET OPEN: 334 X 118 X 43 MM / 13.15 X 4.65 X 1.69 INCH, WITH 2ND STAGE FEET OPEN: 334 X 118 X 46 MM / 13.15 X 4.65 X 1.81 INCH
KEYBOARD WEIGHT 764G / 1.68 LBS (WITHOUT CABLE DONGLE)
WARRANTY 2 YEARS
PRODUCT KEYBOARD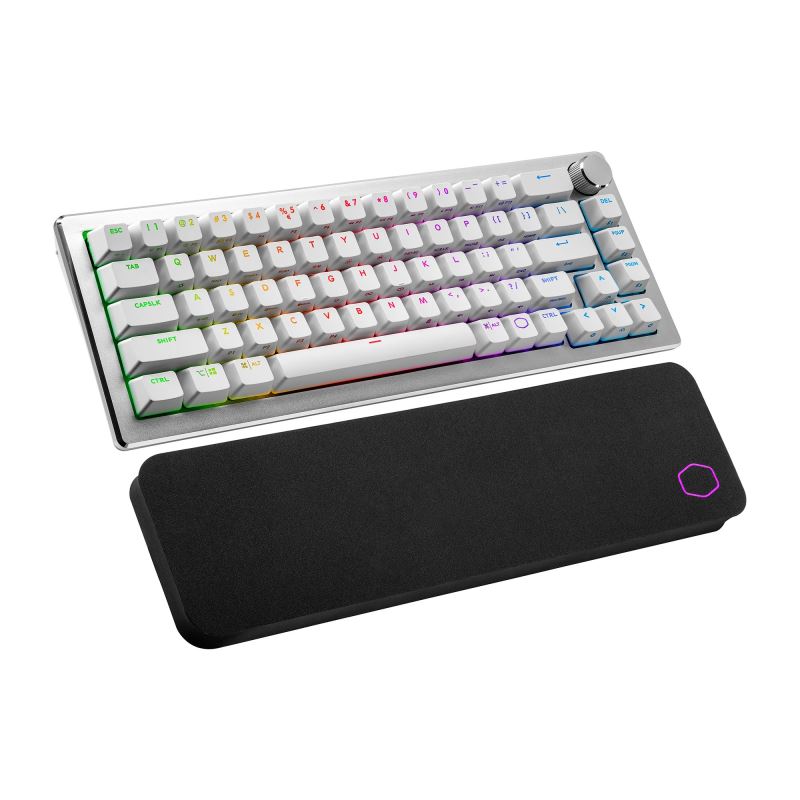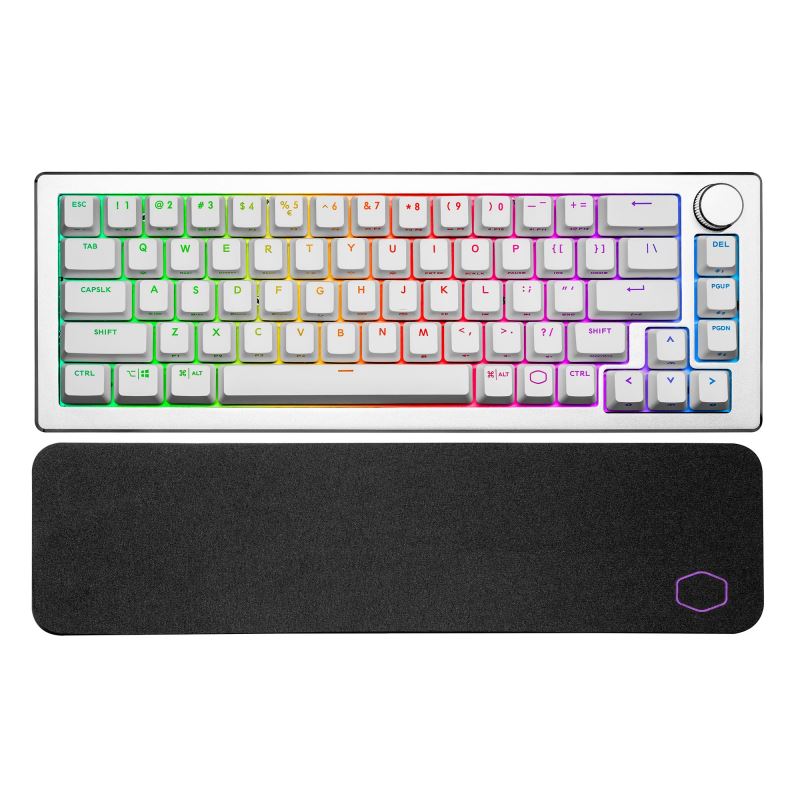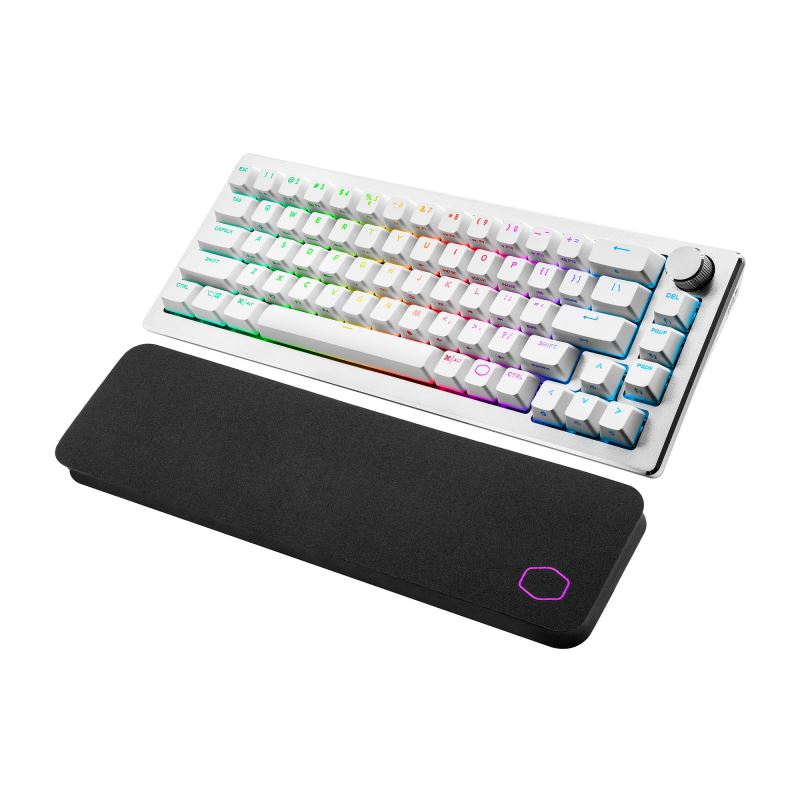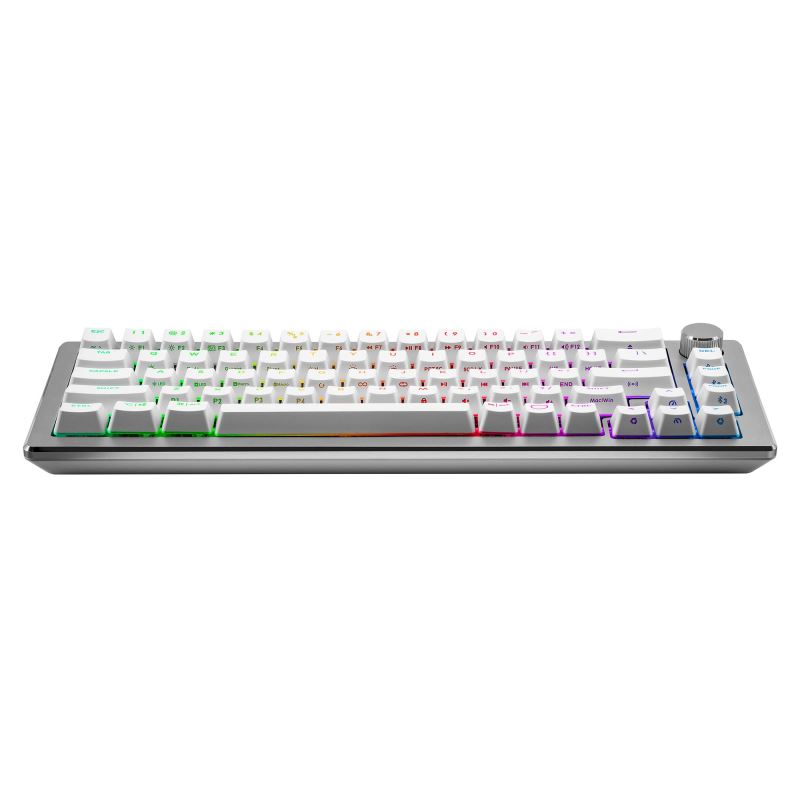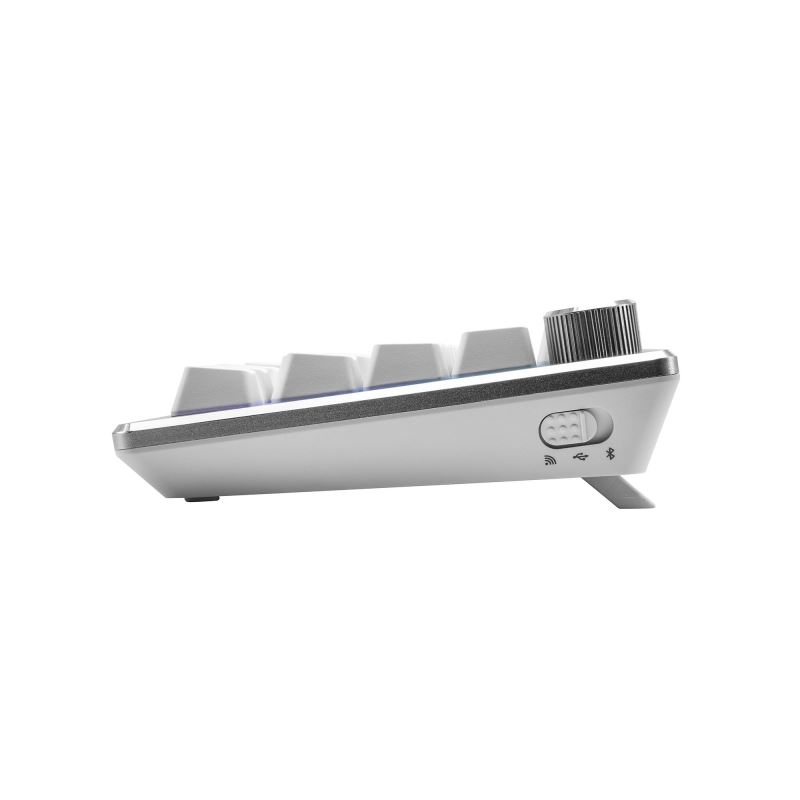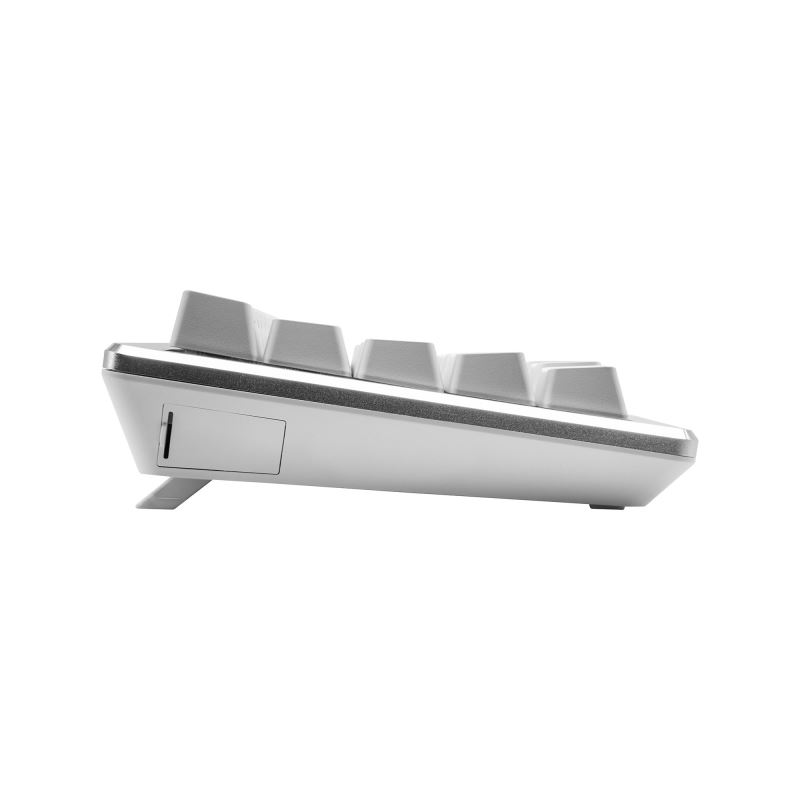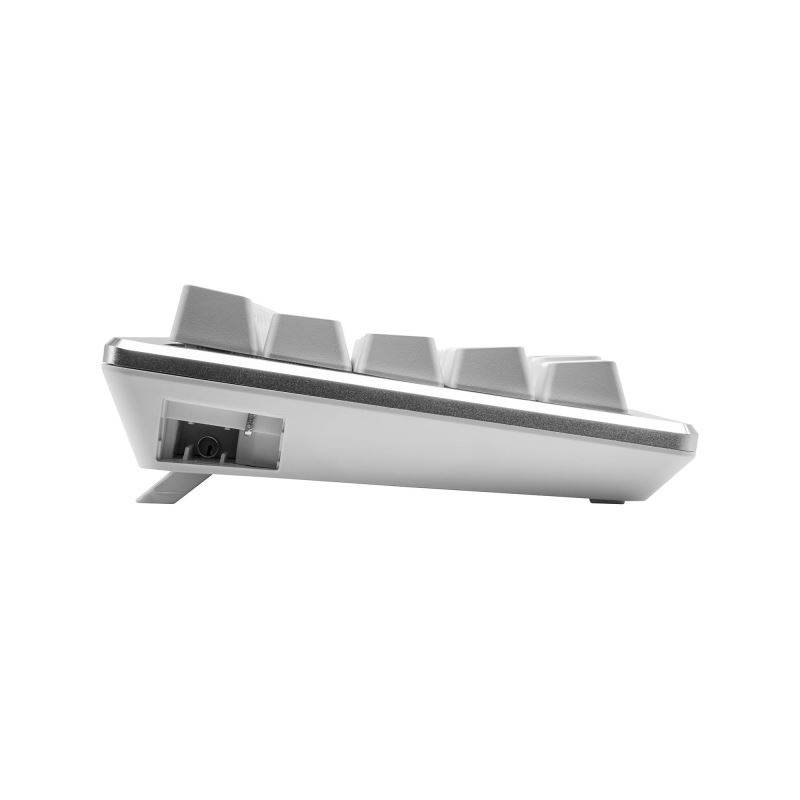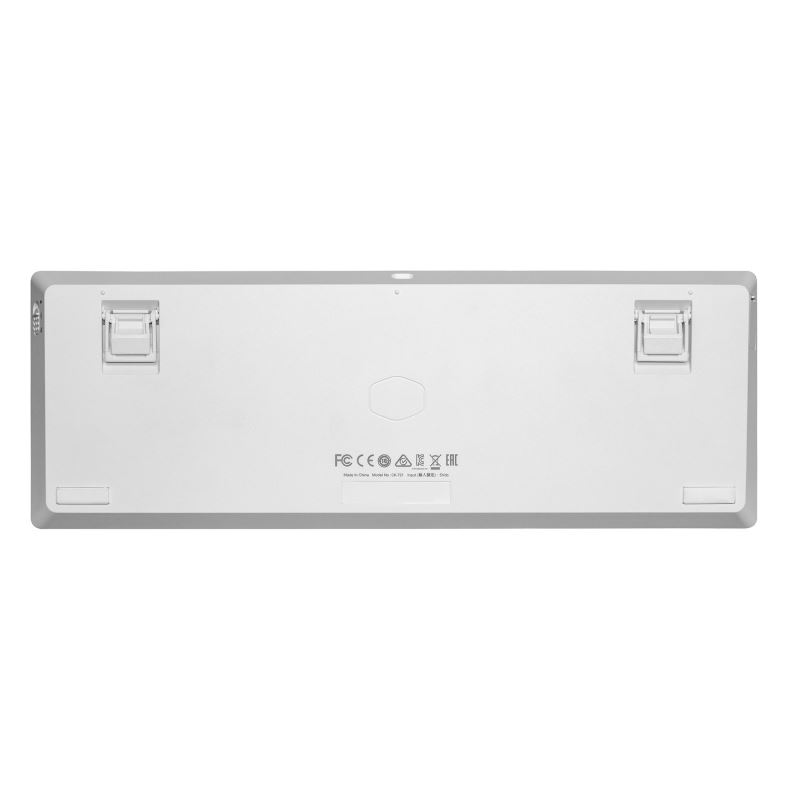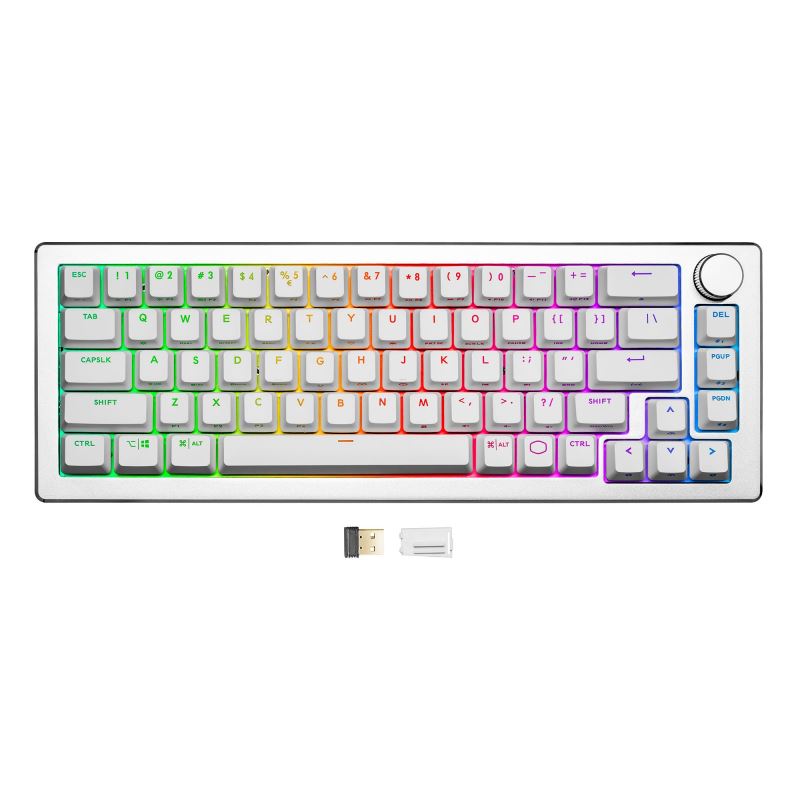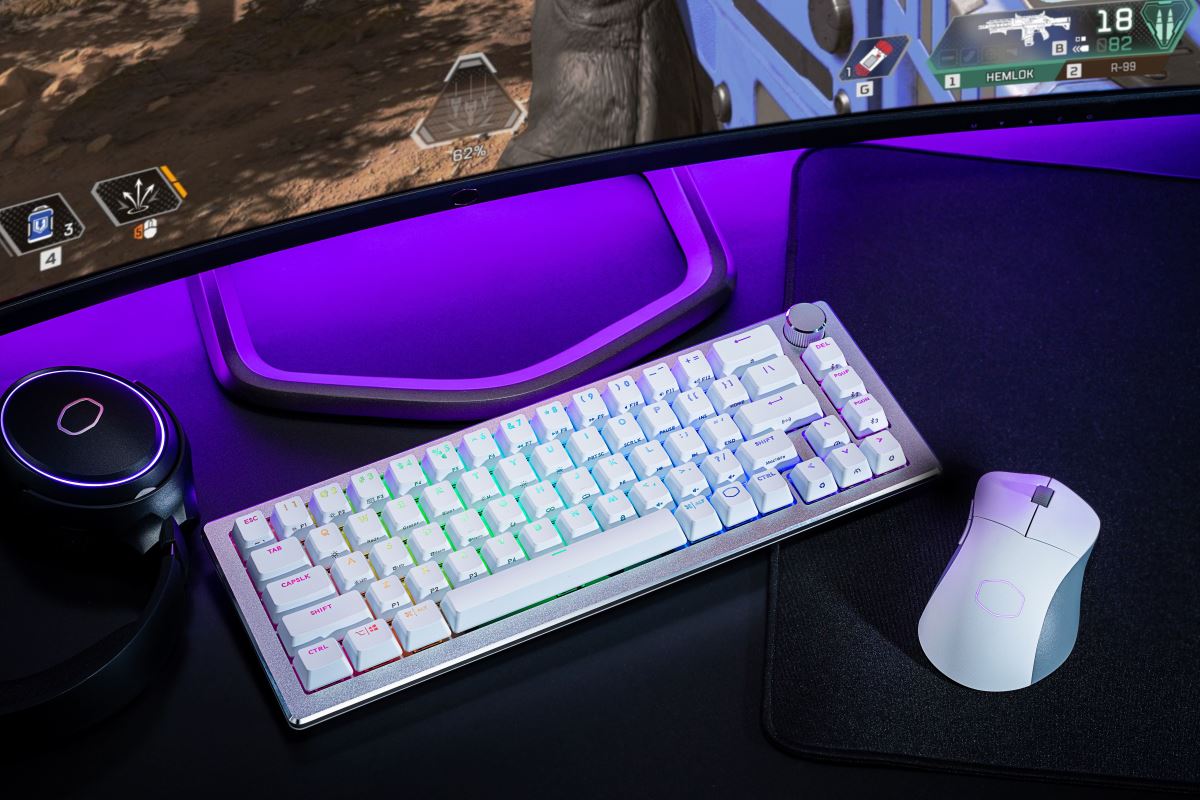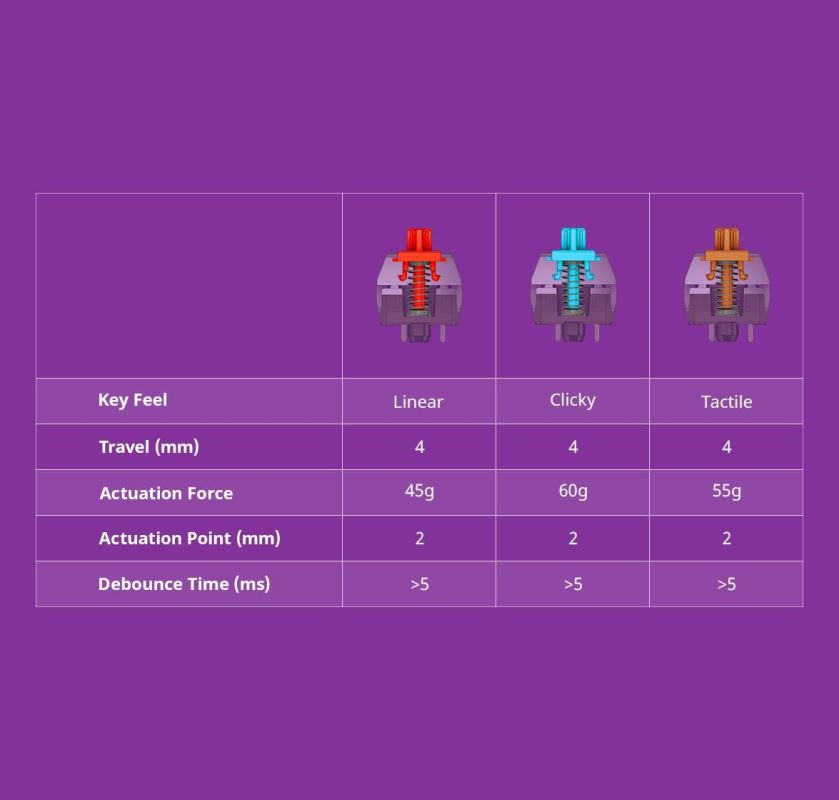 Your question has been sent to the sales department.

Best Regards
DISKUS, SPOL. s.r.o.
Recycling fees incl. in the price of the product:
1.50
OSA fees (SNC) without VAT:
0.00
Price including SNC without VAT:
0.00
Price including SNC and VAT:
0.00
VAT:
21 %