HOME
ABOUT US
FOR PARTNERS
SERVICES
CONTACTS
Thrustmaster Racer Racing Wheel TS-PC Racer Ferrari 488 Challenge Edition for PC (2960798)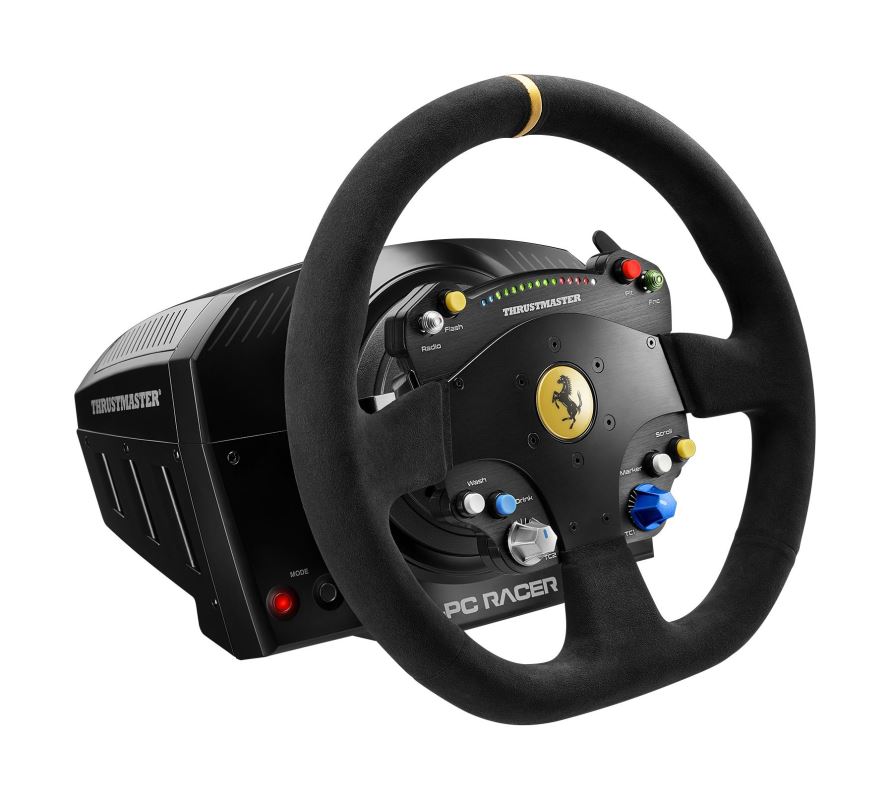 To celebrate the 70th anniversary of the Ferrari® brand, Thrustmaster presents the TS-PC RACER Ferrari 488 Challenge Edition racing wheel. TS-PC RACER, a powerhouse of technologies created to enhance gaming performance and offer a racing experience closer
TH0191 / 2960798
3362932915119
Not specified
24 months

Realistic "competition" wheel design
To celebrate the 70th anniversary of the Ferrari® brand, Thrustmaster presents the TS-PC RACER Ferrari 488 Challenge Edition racing wheel. TS-PC RACER, a powerhouse of technologies created to enhance gaming performance and offer a racing experience closer to reality, now comes with a replica of the wheel of the real Ferrari 488 Challenge car, officially licensed by Ferrari®.
9:10 scale replica (12.6"/32 cm in diameter) of the wheel of the real Ferrari 488 Challenge car, officially licensed by Ferrari®.
Face plate and 2 paddle shifters crafted of black brushed anodized metal.
15 built-in LEDs for tachometer function (RPM).***
2 directional pads (D-pads) with push function + 2 rotary buttons with push function + 8 action buttons = 26 programmable functions in total!
Hand-stitched wrapping crafted of the same Alcantara® material imported from Italy as that used on genuine Ferrari® wheels.
Thrustmaster TS-PC servo base, and detachable Ferrari 488 Challenge wheel with metal face plate. Ecosystem-ready.
2 large, wheel-mounted sequential  paddle shifters (5.5"/14 cm tall – 100% metal – Tact switch with life cycle exceeding 500,000 activations).
Powerful brushless servomotor Force Feedback base
Very responsive 40-watt motor for particularly dynamic and powerful effects, plus enhanced feedback.
The TS-PC RACER's motor provides powerful 40-watt brushless Force Feedback and incredible velocity (dynamic torque): from long stall curves (STALL mode) to super-responsive zigzags (DYNAMIC mode).
Cooling
Motor Cooling Embedded system (patent pending): maintains dynamics with the new motor by ensuring that there is no overheating and while remaining silent. Provides 50% more dynamics, 4 times greater stall force and heat dissipation via monophasic cooling**.
**    Compared to Thrustmaster Force Feedback steering wheels of the current range
H.E.A.R.T and F.O.C.
Field Oriented Control: H.E.A.R.T (HallEffect AccuRate Technology) provides 16-bit resolution (65,536 values), while the new field oriented control (F.O.C.) algorithm dynamically optimizes the response to intense torque demands. The motor responds dynamically and swiftly to increased torque requirements, thereby offsetting and preventing losses in terms of power.
Power supply
External TURBO POWER power supply delivers constant power and massive peak power, to instantly respond to ultra-fast requests from the game.
Toroidal-shaped for optimized power efficiency of 86% (with just 14% heat generation), with a finless design. Peak power: 400 watts!
Compatibility
PC compatibility (Windows® 10/8/7) ensured thanks to the Thrustmaster drivers available for download from the http://support.thrustmaster.com/ website.
The drivers allow you to make sure that you always have the latest firmware version available for the racing wheel.
Compatible with the Thrustmaster racing ecosystem
TH8A shifter*, T3PA-PRO* and T3PA* pedal sets, and add-on racing wheels* (Ferrari F1 Wheel Add-On, Ferrari GTE Wheel Add-On,  599XX Evo 30 Wheel Add-On Alcantara® Edition, TM Leather 28 GT Wheel Add-On, TM Rally Wheel Add-On Sparco R383 Mod and TSS Handbrake Sparco Mod).
*    Sold separately
And more…
Mixed belt-pulley and gears system (smoother, more fluid and less noisy than helical gears) with metal ball-bearing axle.
Internal memory and upgradeable firmware.
Robust and versatile attachment system, compatible with all mounts (desks, tables, etc.).
Box contents
Racing wheel, TURBO POWER power supply, attachment system, user manual and consumer warranty information.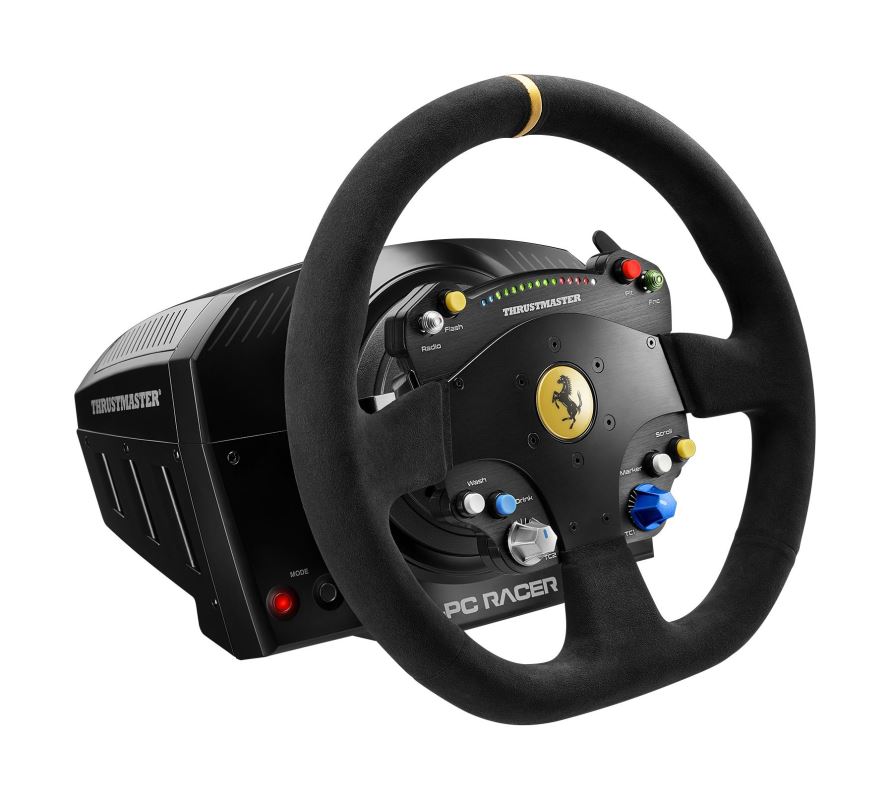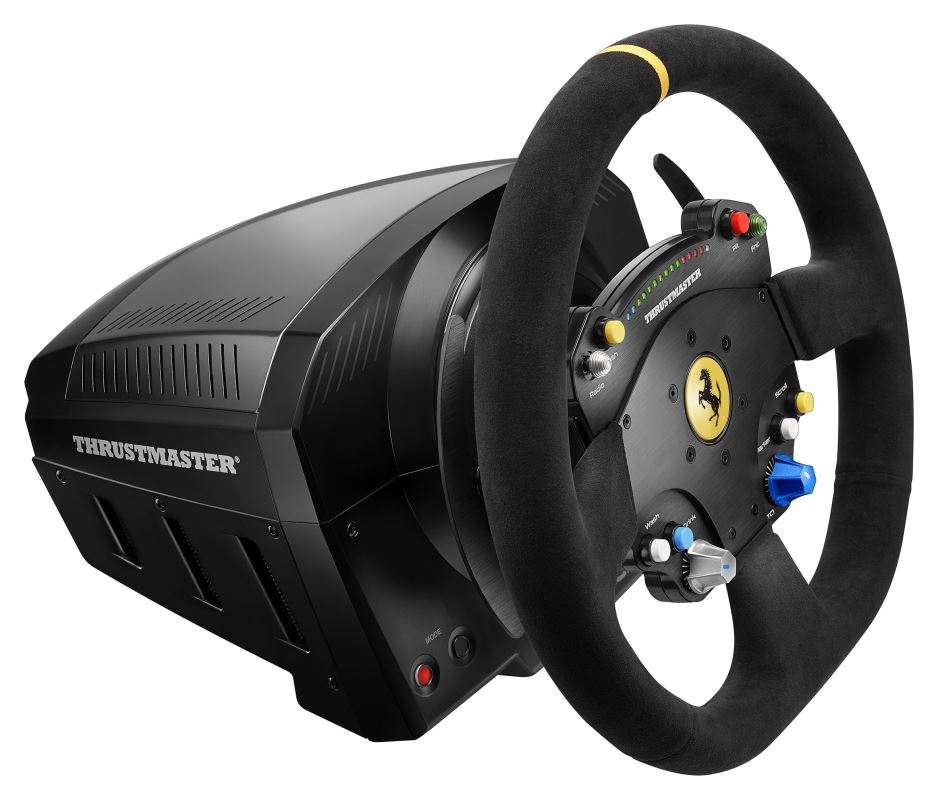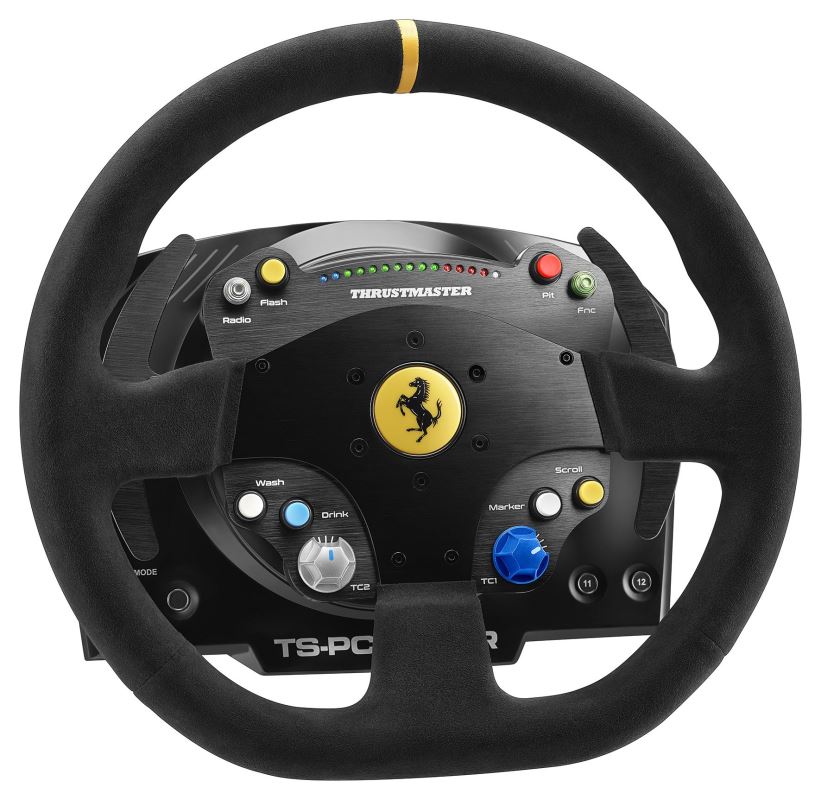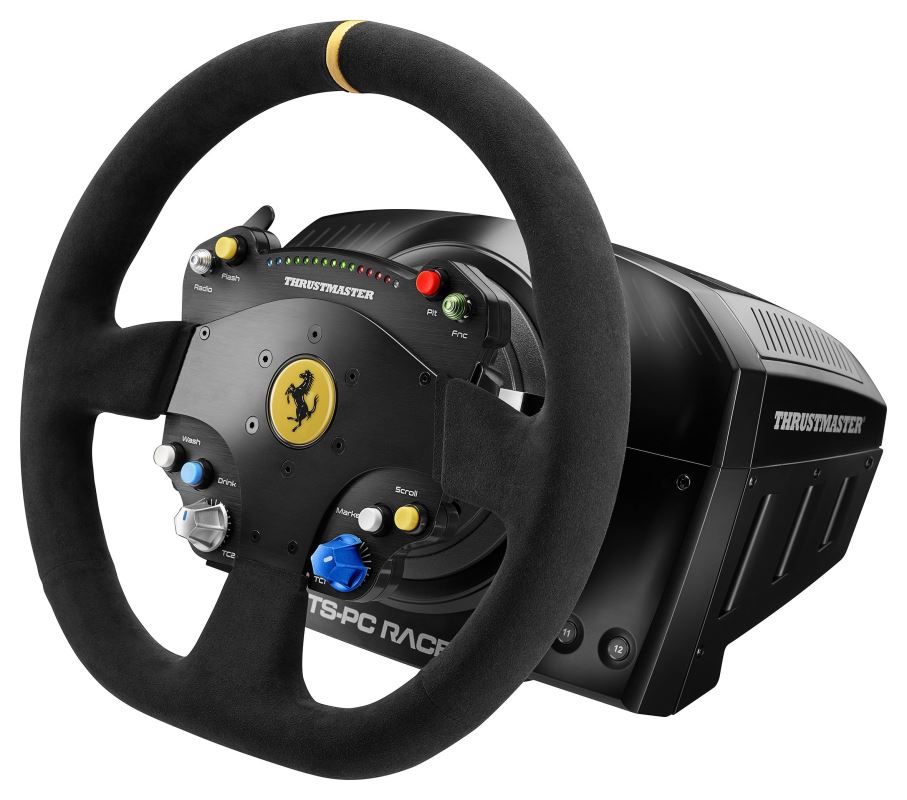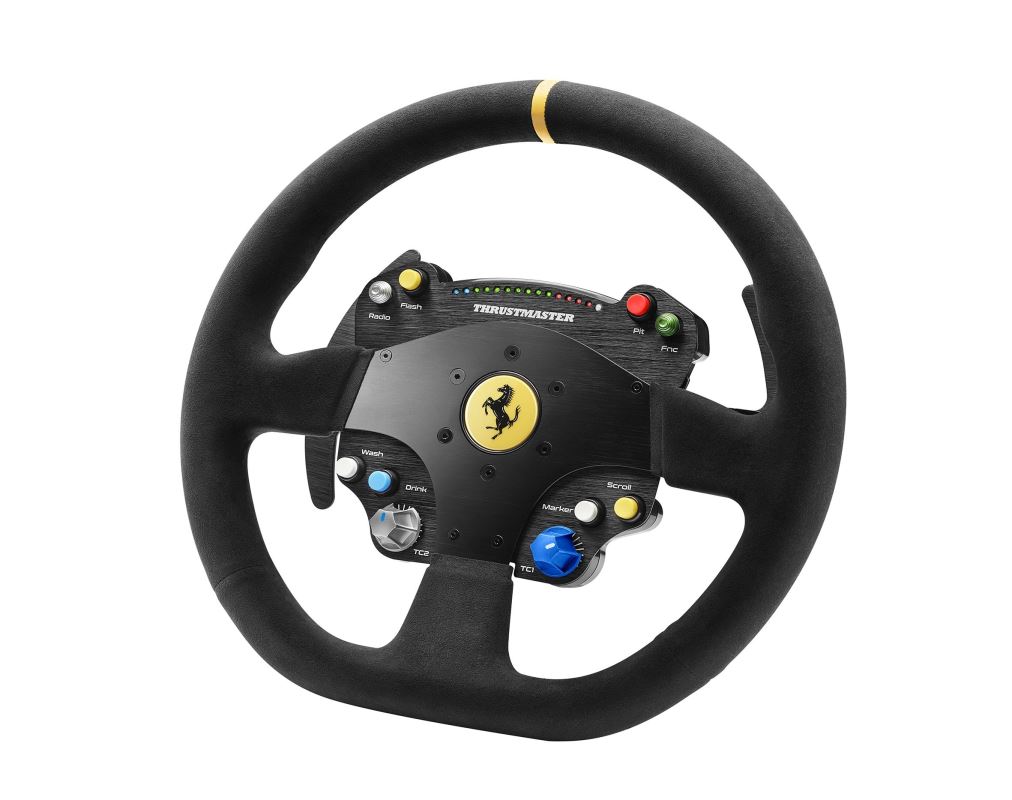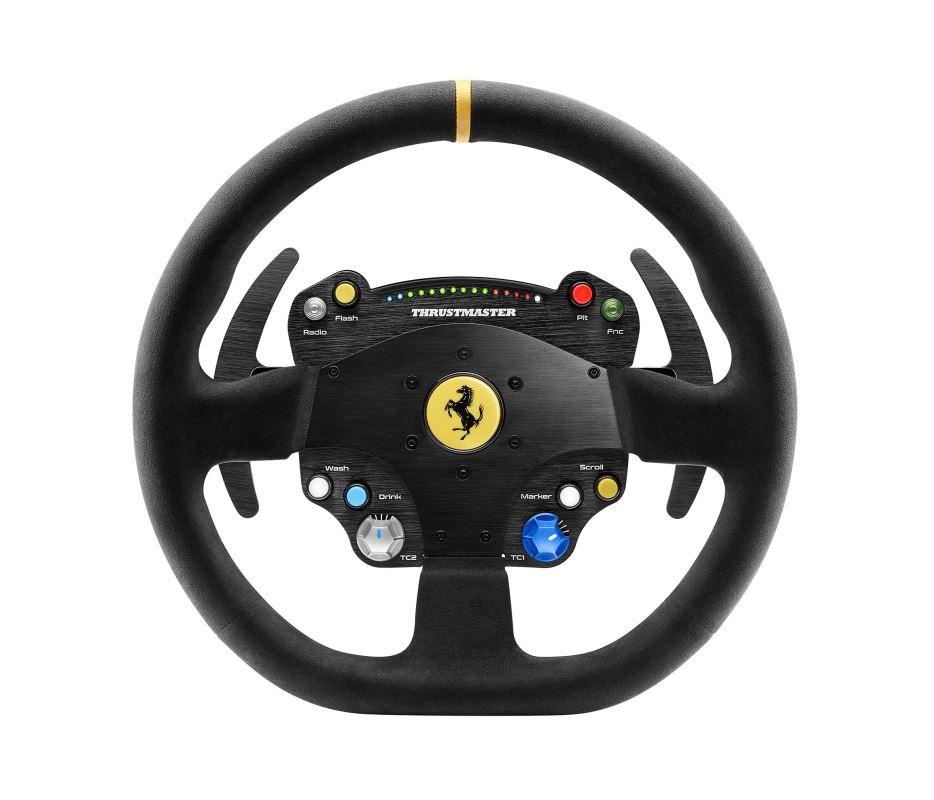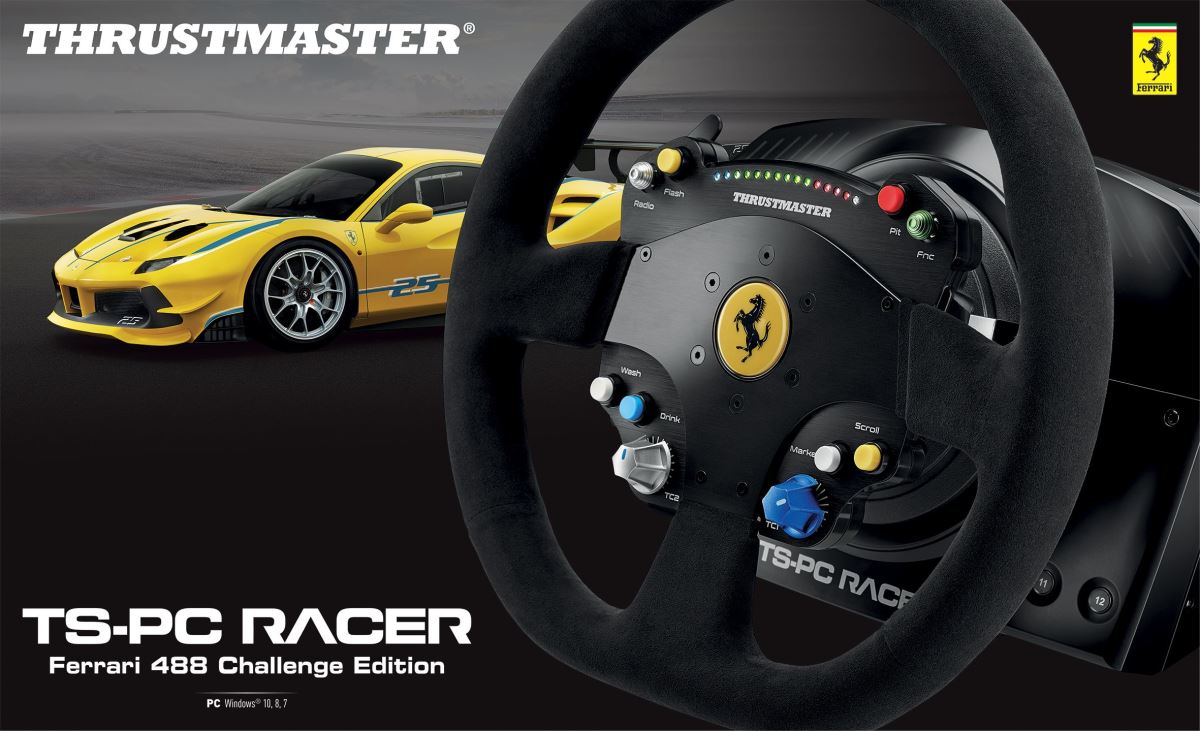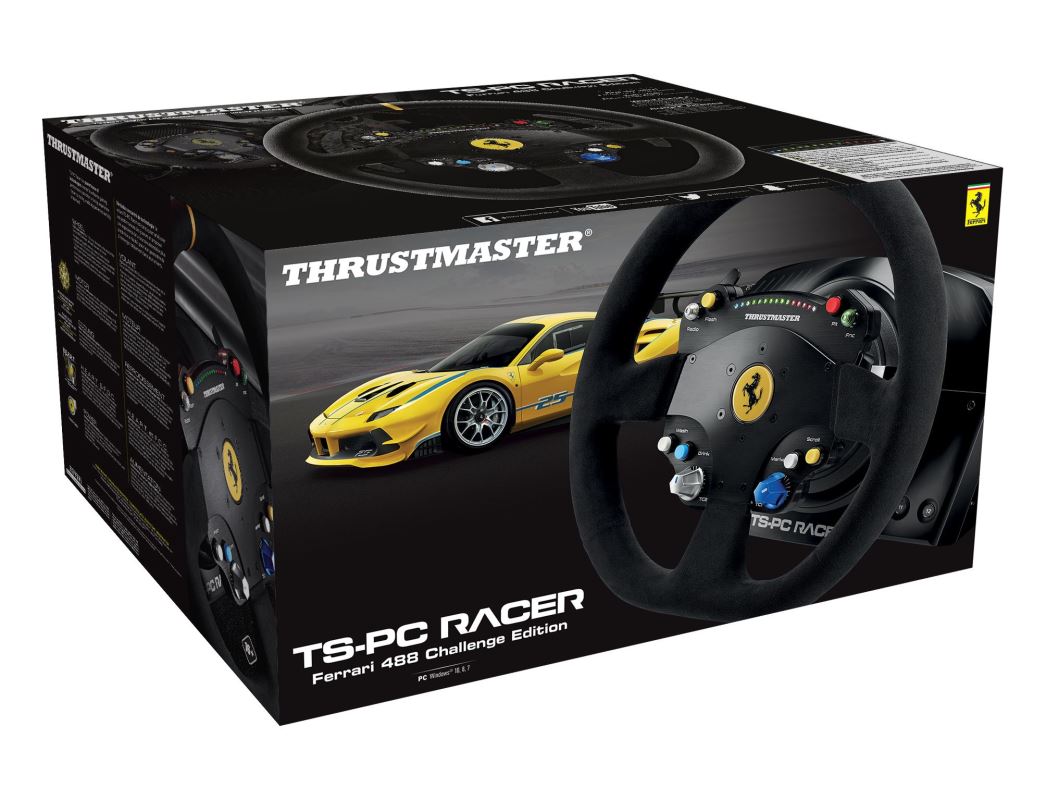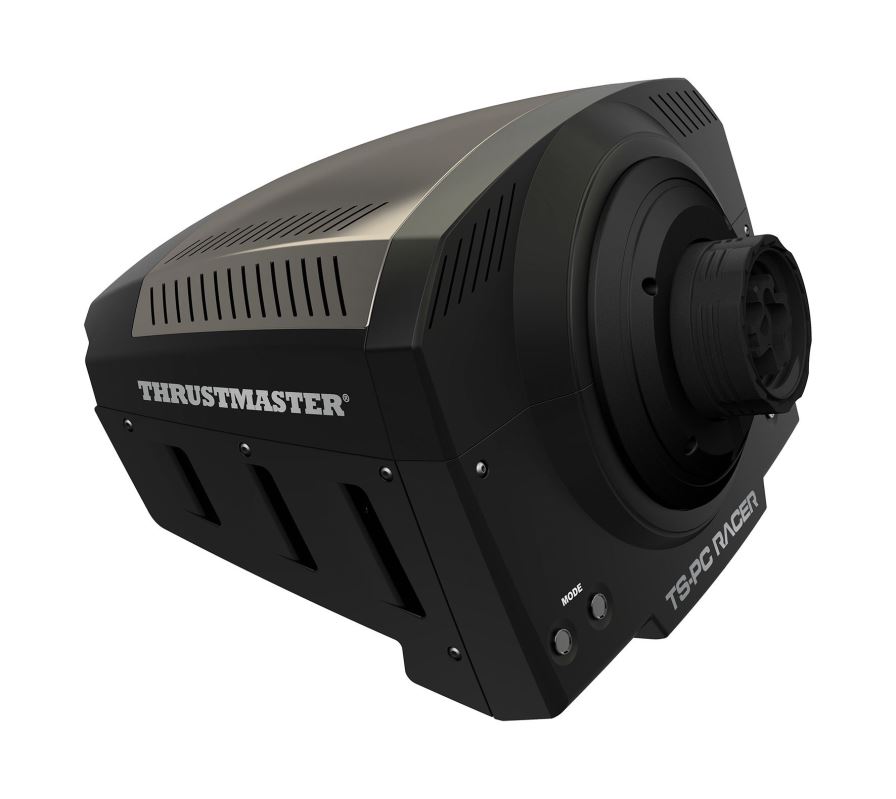 Your question has been sent to the sales department.

Best Regards
DISKUS, SPOL. s.r.o.
Recycling fees incl. in the price of the product:
10.00
OSA fees (SNC) without VAT:
0.00
Price including SNC without VAT:
0.00
Price including SNC and VAT:
0.00
VAT:
21 %